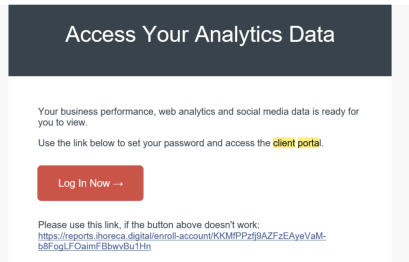 For first time users
iHoreca.Digital will send you an email in the format below.
Click on "Log In Now"
You will be transported to this page: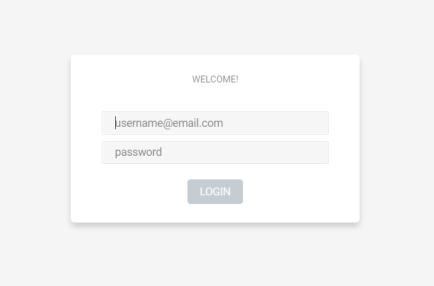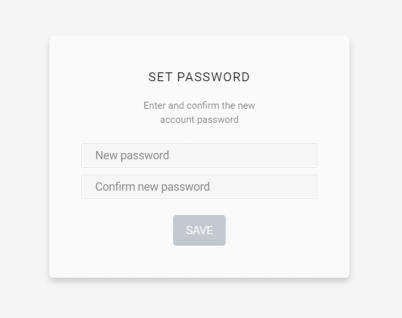 Create your password. You will use this password for subsequent log ins.
You will be transported to the Dashboard

Enter your username (the email you gave to ihoreca.digital and
the password you created
You will be transported to the Dashboard

IMPORTANT: Please note that the demo only includes Facebook, Instagram. LinkedIn and YouTube. Your Dashboard will include the Apps and
Media that you will specify.
Alternatively, you can also do a quick search as seen below. For example, if you wish to see your LinkedIn dashboard, simply type in LinkedIn
From the dashboard, you are able to view your statistics according to different time frames. You can view the statistics for the last 7 days,
last 14 days and so on. However, the statistics would not show your statistics retroactively. You would only be able to see the statistics from the day
you subscribed to the iDash 24/7 service.
When you subscribe to iDash24/7, you can view and download your Performance Reports when you want it. You can also specifiy
when you want the reports emailed to you, for example, every first day of the week or last day of the week.
Please view video on how to generate and download your reports.
Here is how to log out of your Dashboard:

For support, please email us at contact@ihoreca.digital
Please follow the instructions below to access the different dashboards.
Viewing the Different Dashboards
Using Quick Search to Access the Different Dashboards
Viewing your Statistics in different time frames
Logging out of your dashboard